I'm a strong believer in the idea that everything tastes better with bacon.
I recently baked a batch of bacon chocolate chip cookies. I was planning to use this recipe (thanks, Jim!), but I was missing some of the ingredients and was too lazy to make the fancy maple glaze. So I ended up making a slightly modified version that had less bacon, more eggs, more butter, no garnish, and used almond extract instead of hazelnut extract. My version of the recipe is at the bottom of the post.
The cookies turned out surprisingly well. They were chewy (not crispy), very sweet, very chocolatey, and didn't taste strongly of bacon at all. The bacon added an interesting texture and some saltiness. After chewing a bite of cookie for a while, the bacon bits would be the last thing left in your mouth. They were very small, thick cookies due to the huge amount of chocolate chips in them. Unfortunately I forgot to take pictures of the final product, but here's a photo of the cookies from the original recipe. Mine didn't have the maple glaze or garnish, so just imagine a glaze-less version of the cookie you see here. :-)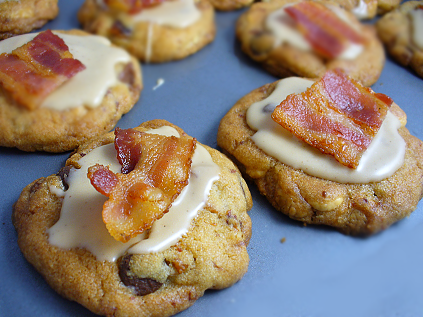 If you want to try making these, I recommend the following changes to the recipe I used:
– Use less or no almond extract. The cookies were too strongly almond-flavored.
– Reduce the amount of chocolate chips used to 1.5 cups total.
– Make the dough balls flatter so the cookies come out flatter.
– DOUBLE THE AMOUNT OF BACON!
On another bacon-related note, my friend Jonathan recently bought some bacon salt, which is gourmet salt you can sprinkle on anything to make it taste more like bacon. I had high hopes, but unfortunately it was gross. We tried sprinkling it on fries, cheese, and crackers, all of which seem like they ought to be improved by extra bacon taste, but they were not.
Also, I recently came across this awesome bacon scarf on Neatorama.


Last but not least, here's my version of the bacon chocolate chip cookies recipe.
Ingredients
1 cup butter, melted
2/3 cup brown sugar
2/3 cup granulated sugar
1 teaspoon almond extract
1/2 teaspoon vanilla extract
2 eggs
2 1/2 cups flour
1 teaspoon baking soda
1/2 teaspoon salt
1 cup white chocolate chips
1 cup dark or semi-sweet chocolate chips
1 cups Oscar Mayer Bacon bits (not Bacos!!)
Instructions
1. Beat together the butter, sugars, extracts and eggs until creamy.
2. Add the flour, baking soda, salt, chocolate chips, and bacon bits.
3. Refrigerate the dough for an hour.
4. Make 2 inch dough balls and space them out on a cookie sheet.
5. Bake at 350 degrees F for 12-15 minutes.