Today, thousands of people held protests outside of Scientologist churches worldwide. These were the February 10th IRL raids promised by Anonymous a few weeks ago. As far as I can tell from the news coverage and YouTube videos, all the protests were peaceful. Some had over 300 people show up! Many of the protesters wore masks or sunglasses to hide their faces — Guy Fawkes masks from V for Vendetta were especially popular. A lot of groups also rickrolled the churches, blasting Rick Astley's 80's hit "Never Gonna Give You Up".
I'm a little surprised that so many people showed up to the protests. Anonymous has done a good job keeping up the momentum. They even managed to get a nice article in Newsweek. I tried logging into Anonymous' IRC channel but found that I've been banned. :( If you're looking for more info on Anonymous' war on Scientology, check out my earlier super long blog post on the topic.
Over 200 people braved -29 degree Celsius weather to attend the Toronto protest. Fast forward to 1:30 to see an interview with an ex-Scientologist, who thanks Anonymous for helping scared ex-Scientologists like herself to "come out of the woodwork."
Here's a TV news report on the protests in Clearwater, Florida. It includes a clip of the protest organizer telling people, "Keep it clean. No shenanigans!" (0:10). It also features a comment from a Scientology director of public affairs (1:10), who says "They're just whipping people into a frenzy about something to discriminate against my stated religious beliefs."
Rickrolling the church in Washington DC. Epic lulz!
Video of the Atlanta protest set to the "All your base are belong to us" song. Go to 0:33 to see a shot of 30 riot police in full gear, ready to shut down the protest in case it got violent (which it did not).
Over 300 protesters gathered in Los Angeles (credit: LA Times and blogging.la).
But only 30 people showed up to protest in Mountain View (credit: the forums at Enturbulation.org).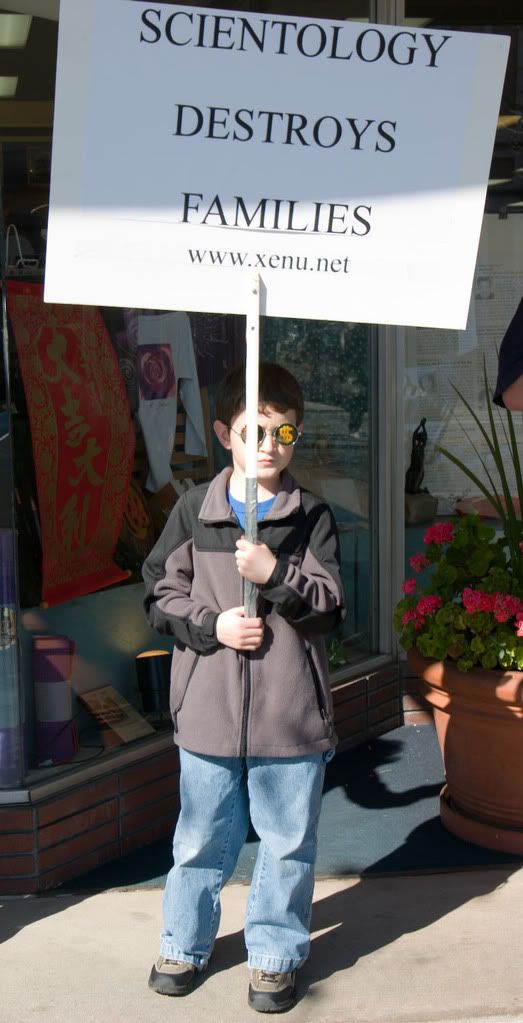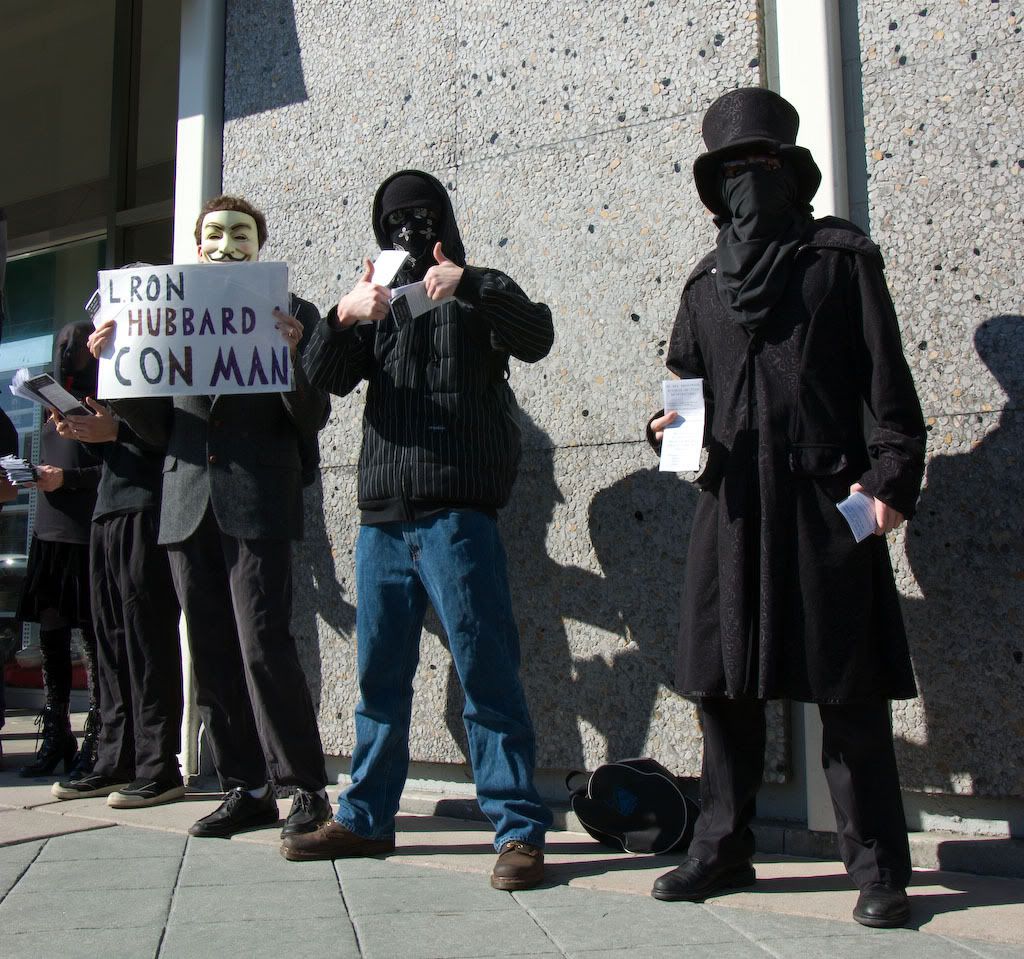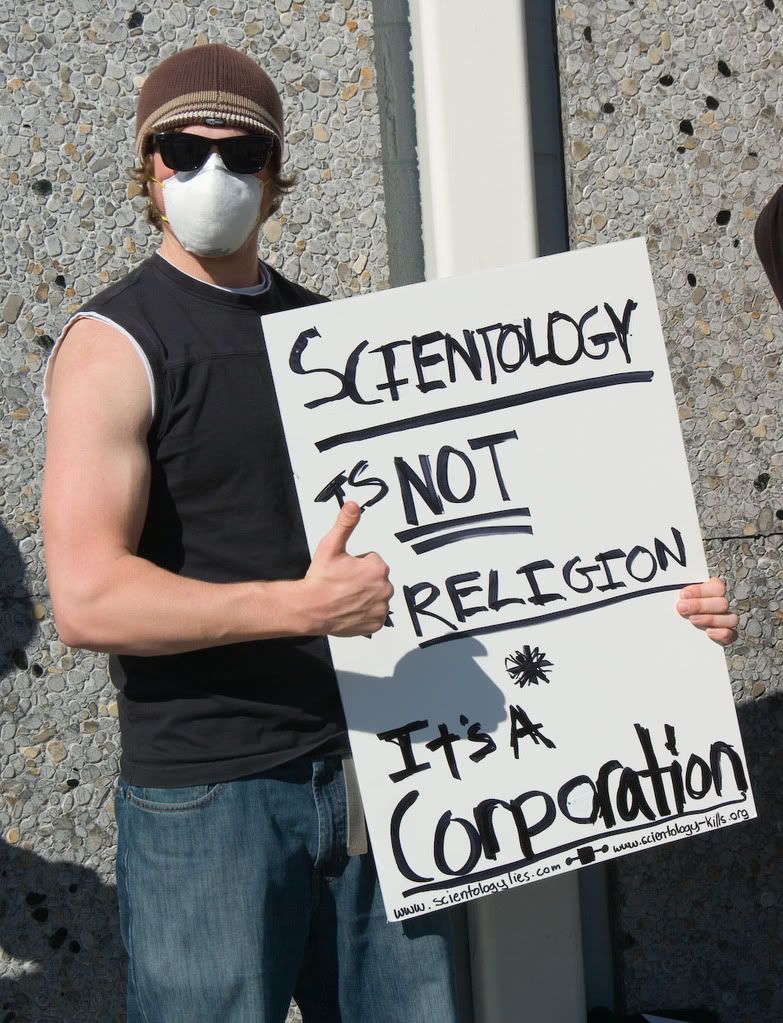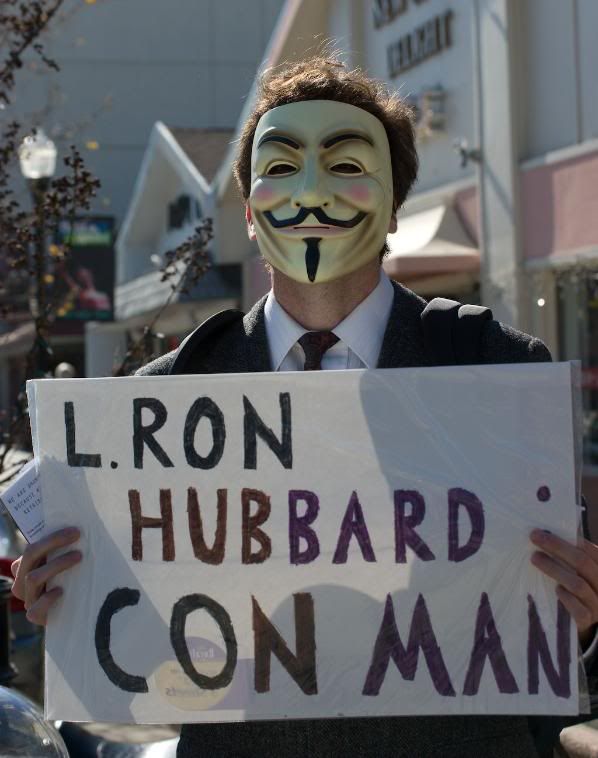 Protests also occurred outside of the US, in Canada, Australia, England, and Scotland. Here are some pics from the Sydney and Adelaide protests (credit: News.com.au).